Redemption at the Puritan's Hand by Primordial (Black Metal, 2011)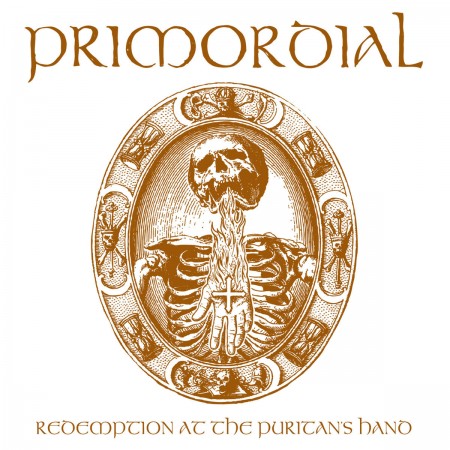 TRACK LISTING ;
1. No Grave Deep Enough (07:10)
2. Lain with the Wolf (08:25)
3. Bloodied yet Unbowed (08:47)
4. God's Old Snake (06:25)
5. The Mouth of Judas (08:53)
6. The Black Hundred (06:19)
7. The Puritan's Hand (08:36)
8. Death of the Gods (09:21)
BUY : Primordial Bandcamp – Metal Blade Records
Recorded and engineered by Chris Fielding during the Winter of 2010 at Foel Studio in Wales.
Mixed in January 2011. Mastered at Orgone Studios in January 2011.
P. MacAmlaigh – Bass
C. MacUiliam – Guitars
A.A. Nemtheanga – Vocals
S. O'Laoghaire – Drums
M. O'Floinn -Guitars
---
This album was also released as a CD/DVD edition.
Disc 2 (DVD)
1.     Rehearsing the Puritan's Hand
---
Limited edition vinyl pressing available in four colour variants, pressed on 180 gram vinyl:
-Brown/White splatter, limited to 300 copies
-Marbled golden brown, limited to 300 copies
-White, limited (uncertified quantity, most likely 300 copies)
-Black, limited to 500 copies