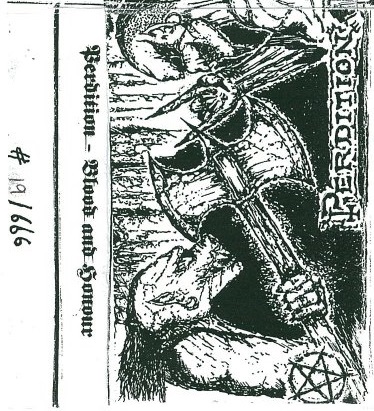 We're currently working on restoring the stream for this release. Please check back soon.
TRACK LISTING ;
1. 666 Bitch
2. Blood And Honour
3. Victory (Is Ours)
4. The Strength Of Steel (The Weakness Of Flesh)
Thanks a million to DaithBM for sending on the box of tapes that this was part of…
Thanks to Alan Averill for giving me the all clear to upload the demo.
…………………………………………………………………….
"…recorded and mixed in a mere 10 night hours without no rest at all…by Enda under much duress at Elektrhell Studios on 16 tracks (27th July 1997)."
Backing Vocals on '666 Bitch' by the Bitching, 666ing Youth Defense Choir.
Guitars – Colin Chandler
Drums – Simon O'Leary (Primordial, Geasa)
Bass/Vocals – Alan Averill (Primordial, Plagued, Blood Revolt, Void Of Silence)