Omniversal Antigenesis by Oncology (Death Metal, 2020)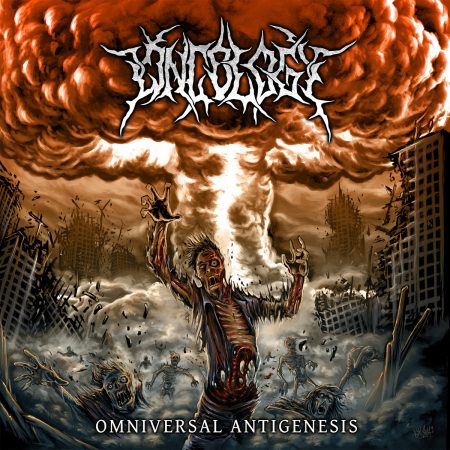 We're currently working on restoring the stream for this release. Please check back soon.
TRACK LISTING:
1. Expulsion Into The Human Psyche
2. Celestial Ruination
3. Ravagers Of Synaptic Cruelty
4. Virions In The Exosphere
5. Liturgies Etched In Blood
6. Tumultuous Echoes Of Punished Humanity
7. Omniversal Antigenesis
8. Moscovium
9. Transdimensional Blood Orgies In Overture 
Release Date:  17th July, 2020  
Released 17/07/2020 by Rising nemesis records and Sevared Records.
BUY/DOWNLOAD:  ONCOLOGY Bandcamp  –  Rising Nemesis Records  
Mixed by Connor.
Mastered by Pumpa @ DPK Studios, Dusseldorf, Germany.
Vocals :- Geoff
Guitars :- Connor
Drums:- Doru
*Bass on album played by Connor
Lyrics by Geoff
Music By Connor