Scourge by Okus (Crust, 2016)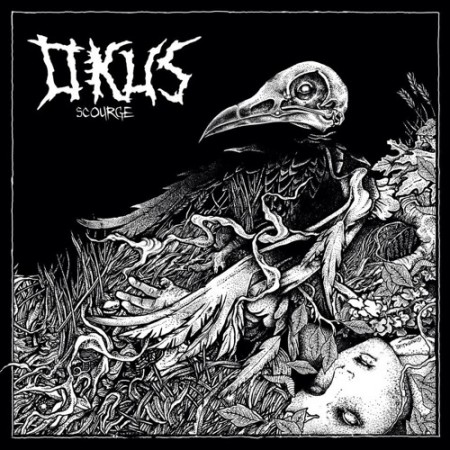 We're currently working on restoring the stream for this release. Please check back soon.
TRACK LISTING;
01. Famine Feeder
02. Buried Deep
03. End It All
04. Authority Swarm
05. Burning Crosses
06. Practice Profit
07. Old Wounds
08. Skin Peeler
09. Abandon Sun
10. Regicide
BUY:  Distro-Y Records  –  Chainbreaker  –  OKUS Bandcamp  
Released on Chainbreaker Records and Dis-troy Records
Standard 12″ black vinyl. Limited quantity available. Orders will be shipped in 3-4 working days. Comes with download of FULL album and copy of inner sleeve with lyrics.
Recorded at Dead Dog Studio, Drogheda, Ireland 2014/15 by Johnny Kerr
Artwork by Sean Fitzgerald.
OKUS is… Crispo , Greg , Ross, Johnny