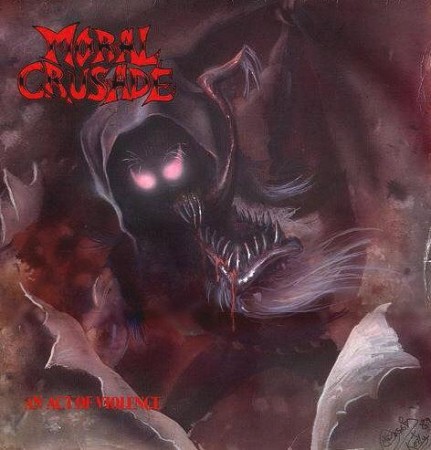 We're currently working on restoring the stream for this release. Please check back soon.
TRACK LISTING:
1. Act Of Violence
2. Streetwise
3. Hate War
4. Premeditated Murder
5. No Mercy
6. The End
7. Persecution
8. A Change In Two Directions
9. When The World Dies
Thanks to 'Ratz' for being OK with me adding this album to the Archive.
BUY/DOWNLOAD:  MORAL CRUSADE Bandcamp  
As of June 2013, 'An Act Of Violence' together with the original 'Immoral Condition' demo has finally been released on CD through Irish label Slaney Records.
"Pincher" – Vocals
Paul "Ratz" Kennedy – Guitars
"Mano" – Bass
"Joe" – Drums