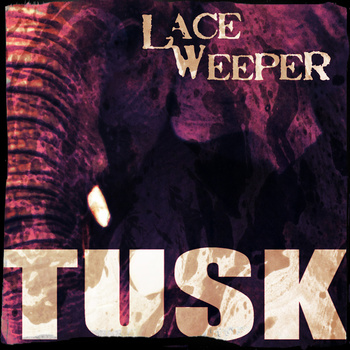 TRACK LISTING ;
1. Hard Sell
2. Catch 22
3. The Vice
4. Seven Dwarves
5. Red Tape
The EP was preceded by a digital single for the track 'Hard Sell'.
Vocals – Sebastian Florek
Guitars – Matt Hayward
Bass – Os Andres
Drums – Paul Madden
Editor Notes:
Review from original IMA blog…
LACE WEEPER are a band that certainly know how to deliver! Their latest 'Tusk' EP sees the band progress and develop their brand of Grunge laced Hard Rock, which is sure to appeal to many.

Opening track 'Hard Sell' kicks off with a quality riff that dominates the majority of the track and will stick in your head long after. 'Catch 22' follows it, a more subdued track that really needs to be listened numerous times to really soak it all in. The accompanying leads and subtle harmonies are thoughtful and help to lift both of these tracks even more, as do the excellent vocals. And there's a lot of ALICE IN CHAINS and even MAD SEASON coming through, particularly on these first two tracks where at times even Florek's vocals are reminiscent of Layne Staley. Not that I'm complaining! It's an overall style that a lot of bands try and capture, but usually fall short. Thankfully for LACE WEEPER they have musicians and a great vocalist with the chops to pull it off.

But come third track 'The Vice' with it's huge rocking intro/chorus riff and funky bass-laden verses that will no doubt go down a treat live, LACE WEEPER begin to expand a bit further and we begin to see more of the bands own personalities shine through. With Anders bass in particular making a notable presence for this and the next two tracks… 'Seven Dwarves', a slow groover and boasts a great guitar outro, while 'Red Tape' rocks out in flying form to close out the EP.

LACE WEEPER have never been shy when it comes to recording and gigging. The band have a solid work ethic and have been making their own roads for the last few years with a number of Singles and EP's under their belts at this stage. And as far as I know have an album planned for later in the year too. Definitely a band for Heavy Rock fans to keep an eye and ear out for.