Promo 2006 by Inhumane (Death Metal, 2006)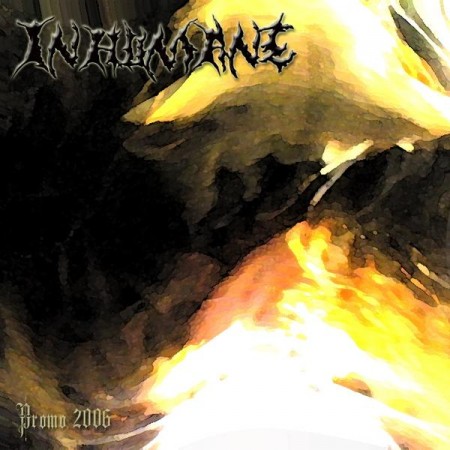 We're currently working on restoring the stream for this release. Please check back soon.
TRACK LISTING ;
1. Remorse
2. Drill Bit Sanity
——————–
3. The Devil & I (**)
4. All Alone (++)
5. Speak (++)

Thanks to Keith Whelan and Andy Inight for allowing me to upload these tracks to the Archive.
Also included here are three earlier tracks that were featured on the "'IN UNISON – IRISH METAL COMPILATION" and "THE FIRST IRISH HEAVY METAL COMPILATION" albums…
---
'Promo 2006'…
"Remorse" and "Drill Bit Sanity" were recorded in Cosmic Recording Studio (Dublin)
RECORDING LINE -UP…
Lead Guitar – Keith Whelan
Vocals – John Edmonds
Bass – Eoin Raftery
Rhythm Guitar – Aaron Murphy (Karnayna, Kingdom, Arcane Sun)
Drums – Antony Weston (Residual Effect)
---
'THE FIRST IRISH HEAVY METAL COMP.' (1997 – Panic Records)
"The Devil & I" and "All Alone" were recorded by Colm Clohessy in Trackmix Recording Studio (Clonsilla, Dublin) between March/April 1997.
RECORDING LINE -UP…
Lead Guitar – Keith Whelan
Drums – Andy Inight (Nephridium)
Vocals – Ronan Murphy
Rhythm Guitar – Michael Glover
Bass – Ken Murphy
---
'IN UNISON – IRISH METAL COMP.' (2000 – Sentinel Records)
"Speak" was recorded in Cosmic Recording Studio (Dublin)
RECORDING LINE -UP…
Lead Guitar – Keith Whelan
Drums – Andy Inight (Nephridium)
Vocals – John Edmonds
Bass – Kingsley Renehen (In Memory Of…, Syphor, Sacrum Of Elegy)