Survival of the Fastest by Gama Bomb (, 2005)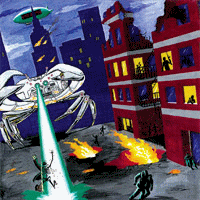 TRACK LISTING ;
01. Zombie Creeping Flesh
02. Steel Teeth (The Metal Jaw)
03. Zombie Kommand
04. Atomizer
05. Fortified Zone
06. Racists!
07. Scientists?
08. Hell Trucker
09. Nuke The Skeets
10. Skellington Crew
11. Bullet Belt
—-Bonus tracks—-
12. The Survival Option **
13. M.A.D. **
———————————————————————
Philly Byrne – lead vocal
Joe McGuigan – bass guitar and backing vocal
Luke Graham – guitar
Kevy Canavan – lead guitar
Ronan Fitzpatrick – drums on everything else
Damien Boyce – drums (on "M.A.D" and "The Survival Option")
( ** )
These were originally released on Gama Bomb's 2004 single "The Fatal Mission" and were not included on the 2005 limited release version of the album.
———————————————————————
This album was released in a very limited amount by the band themselves in September of 2005. It was later released officially through Witches Brew (numbered edition April 2006, unnumbered edition February 2010) with two extra tracks from their 2003 demo: 'The Survival Option' and 'M.A.D.'
Released in LP format in 2009 by Thrashing Rage Records limited to just 525 copies in total across 6 different colors. All copies come with a handnumbered certeficite of authenticity.
Splattered Vinyl – 27 Copies (#1-27)
Black Vinyl – 78 Copies (#28-105)
Clear Vinyl – 105 Copies (#106-210)
Blue Vinyl – 105 Copies (#211-315) (Availabe only through Earache Records website)
Green Vinyl – 105 Copies (#316-420)
White Vinyl – 105 Copies (#421-525)