Bleed Towards New Ground by Flatline (, 2002)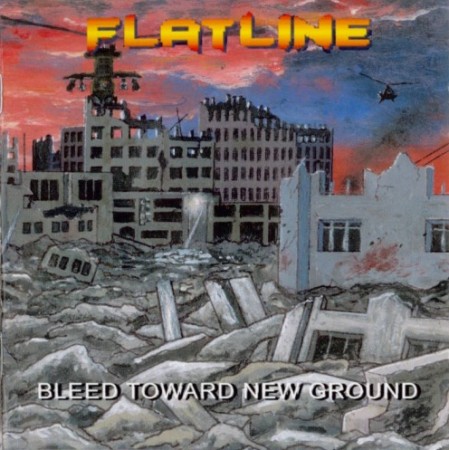 We're currently working on restoring the stream for this release. Please check back soon.
TRACK LISTING :
1. Blud Kudgel
2. I Choose Who Bleeds
3. Silent
4. Adrenaline Hate
5. Destiny
6. Volatile
7. Bleed Toward New Ground
Thanks to Don O'Brien for allowing me to upload this album to the Archive.
www.facebook.com/pages/FLATLINE/403959755140
www.myspace.com/flatlinethrash
……………………………………………………………………………..
All songs written and arranged by FLATLINE.
Recorded at BPM Studios, Douglas, Cork.
Mixed by FLATLINE with Fin at BPM Studios.
Mastering and duplicatiojns by ADS Studios, Dublin.
Cover concept by FLATLINE.
Artwork by Denis Coveney.
Cover Layout by Michael O'Sullivan, Leo O'Sullivan, Keith Troy and Denis Coveney.
Guitars/Vocals – Don O'Brien
Guitars – Chris Mac Bride
Bass – Denis Coveney (Carnun Rising, Hallowed, Belinus)
Drums – Nicholas Kelly