Nuada Of The Silver Arm by Celtachor (Black Metal, 2015)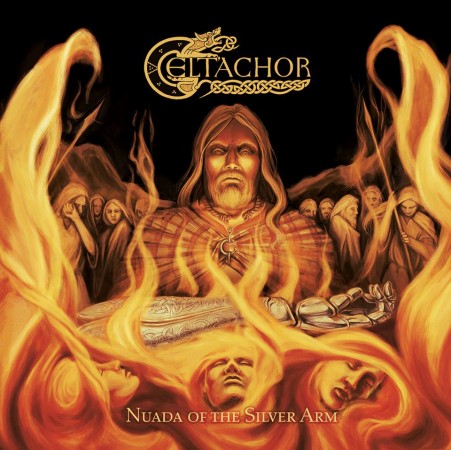 We're currently working on restoring the stream for this release. Please check back soon.
TRACK LISTING:
1. Arrival of the Tuatha
2. The Mighty Sreng
3. King Eochaid's Fall
4. Bres
5. Nuada of the Silver Arm
6. The Gathering at Teamhair
7. Second Battle of Magh Tuireadh
8. Nuada's Burial
9. Uaithne: The Dagda's Harp
Release Date: 24th April, 2015
Buy/Download: Bandcamp  
"The concept for the second album deals with the Life and Death of the High King Nuada, the arrival of the Tuatha Dé Danann to Ireland and the first and second battles of Magh Tuiread.
The artwork was once again painted by the band's drummer Anais Chareyre, it depicts Nuada, the king, and his people staring into the Fires of Teamhair at the creation of the Silver Arm, near his great hall at Tara. In the flame's the faces of Fódhla, Banba and Ériu looking over the creation of the arm. The Kingship returning to Nuada."
Stephen Roche – Vocals/Whistles.
David Quinn – Guitar.
Anaïs Chareyre – Drums.
Fionn Staffort – Guitar/Whistle.
Oliver Deegan – Bass.