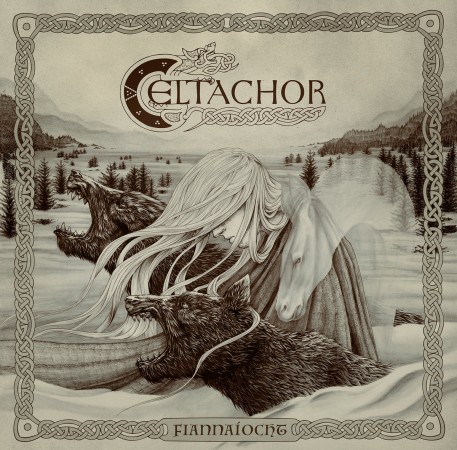 We're currently working on restoring the stream for this release. Please check back soon.
TRACK LISTING:
01. Sons Of Morna
02. King Of Tara
03. Tuiren
04. The Search For Sadbh
05. Caoilte
06. Great Ships Came From Over The Waves
07. The Battle On The Shore
08. Tears Of Aoife
09. Cauldron Of Plenty
10. Dubh, Dun Agus Liath
Release Date:  20th April, 2018
Buy/Download:  Bandcamp 
Fiannaíocht is CELTACHOR's third album, telling the story of Finn of the Fianna.
Recorded, mixed and mastered by Chris Fielding at Skyhammer Studio.
Chants recorded by Yanko Genov at Oblivion Studio.
All music written and performed by Celtachor.
Lyrics by Stíofán De Roiste.
Artwork and booklet by Anaïs Chareyre.
Stephen Roche – Vocals/Whistles
David Quinn – Guitar/Backing Vocals
Anaïs Chareyre – Drums/Bodhran/Backing Vocals
Fionn Stafford – Guitar/Backing Vocals
Robert Macdomhnail – Bass/Bouzouki/Harp
Liam Henry – Violin/Harp