The Last Stand by Blackwych (Hard Rock, 1988)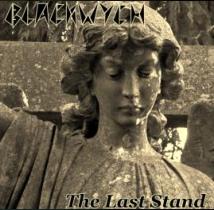 TRACK LISTING:
1. The Last Stand
2. Castaway
3. Alamein
4. After the Battle
5. Rocking Through The Night
6. Fortune Lies
7. Memories
8. Bloody War
Originally Released: 1988 
Only ever available at gigs in the UK, released on a limited run.
Recorded live during the band's Irish tours 1986/87. The recordings were made in Archibald's Bar, Carlow; Leinister Arms, Kildare Town; The Ivy Rooms, Parnell St, Dublin; Coxs Lounge, Newbridge; Hayden's Bar, Naas; The Fire House, Trim; Behan's Ball Room, Clane; Lenister Arms, Maynooth; O Keeffs, Kilcock; The Dewdrop Inn, Kill; The Grand Hotel, Wicklow; and The Hitching Post, Leixlip.

Re-Recorded/Re-Released: 2020
Re-release and upgrade, using a combination of old demo tape recordings and new re-recordings.
It has been released digitally on Spotify, Youtube and other digital platforms.