Split by Putrefy (Death Metal, 1994)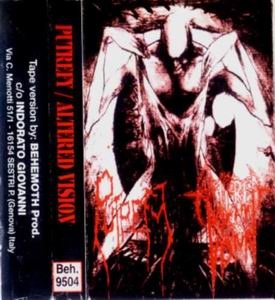 We're currently working on restoring the stream for this release. Please check back soon.
TRACK LISTING;
1. Altered Vision – Suffering into Me
2. Altered Vision – Devine Dialogue
3. Putrefy – Intestinal Vomit
4. Putrefy – Carved up Bitch
5. Putrefy – Cryonic Zombies
Also released on CD-single in 1994/1995 by Isolated Records (cat.no.: ISO-003).
(Streaming as tracks 5-7 in the player)
Produced by Gary Aiken and PUTREFY.
Recorded at Novatech Studios on 7th June and 2nd July 1994.
Jeff – Guitars
Jason – Drums
Chuck – Vocals