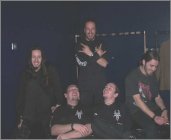 We're currently working on restoring the stream for this release. Please check back soon.
TRACK LISTING :
1. Forever Didn't Last Too Long (Pre-Production 2003)
2. Lillith (Pre-Production 2003)
3. Never A Day (Pre-Production 2003)
Thanks to Dave Gibson for giving me permission to upload the demo to the Archive.
These tracks were recorded shortly after the band changed name from CORRUPTED to AGONY DESIGN, but were never finished properly or released before the they split-up.
Bass – Emmet Quinn
Drums – Antony Weston (Residual Effect)
Guitars – Muiris Ó Fiannachta (Bloody Kisses, Apostate Viaticum)
Guitars – Dave Gibson (A Distant Sun, Aeternum Vale)
Vocals – Morgan Deane (Anarkangel)