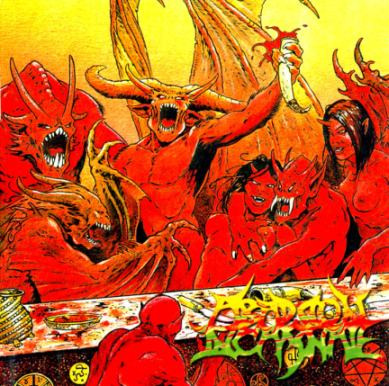 We're currently working on restoring the stream for this release. Please check back soon.
TRACK LISTING:
1. Nihilist
2. I Hate
3. The Sharing of Thoughts with the Dead
4. Temple of Rancid Filth
5. Vermithrax
6. Vile Pleasures of Transfiguration
7. Raping Ground
8. When the Demons Come
9. Manhead
10. Forced Osculum Infame
11. Hell Noise
BUY/DOWNLOAD:  AI Bandcamp
Released by Season Of Mist
Recorded at Tico Tico studios Finland.
Mastered by James Murphy in SoundTemple Studios California USA.
Bill Whelan – Guitar
Rob Tierney – Bass
Steve Maher – Vocals/Guitar
Olan Parkinson – Drums