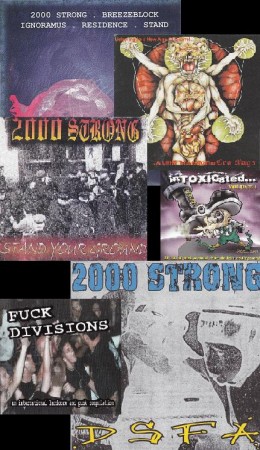 We're currently working on restoring the stream for this release. Please check back soon.
TRACK LISTING ;
1. Positive Hate
2. 2000 Strong
3. Control
4. Payback
5. All Out War
6. Time Heals No Wounds
7. Stand Your Ground
8. Sign Of The Times (Cro-Mags Cover)
Thanks to Ian Lawless for allowing to upload these tracks to the Archive.
Tracks 1,2,3    –   '2000 Strong / D.S.F.A.' Split EP  –  (2000)
Track 2   –   'Fuck Divisions – HC/Punk Compilation' (????)
Tracks 4,5,6   –   'Skipworth Records 5-Way Split' (????)
Track 4   –   'Intoxicated Vol.1 – Irish Punk/Metal Compilation' (2001)
Track 7   –   'Stand Your Ground' Demo… (This was a 3 track demo. Not sure which tracks were also on this Demo but all 2KS tracks recorded are featured in this download!!!)
Track 8   –   'Ushering in a New Age of Quarrel – A Tribute to Cro-Mags' (2000)