Trojan
Heavy Metal / Co. Dublin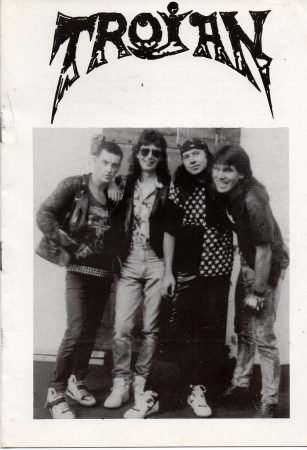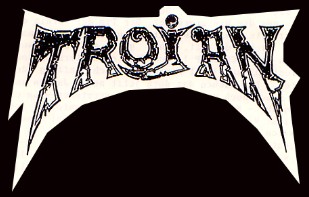 Links
Trojan were formed in Dublin in 1982 by Maurice Cassidy (Bass) Eddie Kenny (Vocals) Fergus Kelly (Drums) and Connor Curran (Guitar). Their first gig was in the Baggot Inn, Dublin, as support to The Bogey Boys. After a few more supports, the band decided to play their own gigs in Dublin (The Ivy Rooms and McGonagles etc) and around Ireland.
From January 25th – 28th in 1984, Trojan recorded their first demo in Litton Lane Studios, Dublin. It consisted of 4 songs, 2 of which would be rerecorded in 1985 at Slane Studios, Co. Meath for inclusion on the upcoming 'Green Metal' album, a compilation of new Irish heavy metal. The songs featured were 'Charge of the Night Brigade' and 'Soldier's Song'. Before the release of the "Green Metal" Compilation LP, the band parted ways with guitarist Conor Curran, to be replaced by Greg Vile, who was a member of the band for a short period.
1986 saw a change in direction for the band's sound to a twin lead guitar approach. Recruited were Derek 'Dee' Barton and Tom Harte. The band wasted no time in recording their first single, 'Bombs Away', with 'Back to Me' as the b-side. The songs were recorded at Sun Studios, Dublin. In 1987, 'Back to Me' featured on the compilation album "Metal Warrior" and 'Bomb's Away' featured on the compilation album "The Last Warrior".
Before the end of 1987, the band were back in the studio recording. This time, in a castle, converted into a studio, in York, England. Very rock and roll! The band recorded 'Relentless Pursuit' to be included on the compilation album "Rock Masters". 1988 saw a new drummer, Ray Ellis, join the band and Trojan recorded their long awaited album "The March is On" in Sun Studios, Dublin.
After much gigging to promote the album, the band returned again to Sun Studios to record a further two songs for release on an American Phil Lynott tribute album. The stipulation for bands to be featured was to record an original song and a Thin Lizzy song. Unfortunately, the album ended up not being released. Ernie Tiedt became the new drummer after these recordings for a brief period, who in turn was replaced by Damien Finnegan. Eddie Kenny was then replaced by Alan Healy, and after the departure of Dee Barton the band settled down as a four piece. This line-up did not produce any recordings, but continued gigging extensively all over Ireland at the end of the 80s and beginning of the 90s.
The final lineup of the band saw drummer Emmet Burke and vocalist Trevor Saunders join. Trojan next returned to Sun Studios to record the "Night Killer" EP, consisting of four songs. After gigging around the country in promotion of the EP, and as the last original member in Trojan, Maurice Cassidy decided to call time on the band, bringing to an end a decade of Trojan's recording and gigging career.
---
They also featured on a number of compilation LPs…
Genres
Heavy Metal, NWOBHM
Members (Current)
Maurice Cassidy - Bass (1982-1992)
Tom Harte - Guitars (1986-1992)
Trevor Saunders - Vocals (1991-1992)
Emmet Burke - Drums (1991-1992)
Members (Former)
Fergus Kelly - Drums (1982-1988)
Connor Curran - Guitars (1982-1984)
Greg Vile - Guitars (1984-1985)
Ray Ellis - Drums (1988)
Derek 'Dee' Barton - Guitars (1986-1989)
Eddie Kenny - Vocals (1982-1989)
Ernie Tiedt - Drums (1989)
Damien Finnegan - Drums (1989-1991)
Alan Healy - Vocals (1989-1991)