The End Again
Alt Rock / Co. Louth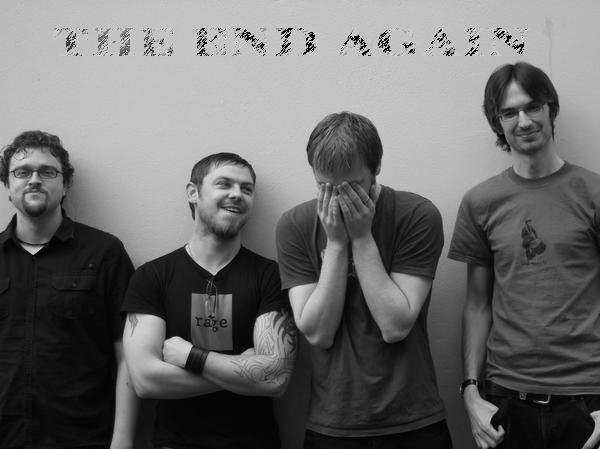 Links
Hailing from Dundalk, Co. Louth the band included Ronan McCrory (vox/guitar), Ian Harold (drums), Kev Carroll (guitar) and Ger Murphy (bass/vox). The band drifted together in the usual fashion and culminated in music, which can only be described as 'melody in self-destruct'. Their musical reference points include DEFTONES, BREAKING BENJAMIN, TOOL, and RAGE AGAINST THE MACHINE to name a few.
The band has been touring constantly since their formation in early 2006 including a number of nationwide tours with RAGE AGAINST THE MACHINE Tribute band BULLS ON PARADE. The 2006 tour also included the band's first over-sea's performance in the Apollo 2 Theatre in Barcelona, Spain.
The highly anticipated debut album from THE END AGAIN entitled 'My Love is Dead' was released on the 18th of May 2009. Born of past lives and past loves the sound is described as 'melody in self destruct'. With a spectrum of sound from the beauty and humbleness of piano and orchestral ballads to the vocal and guitar ripping bite of 'screamo' this album will cling to your senses.
The album was recorded at Dundalk's Tumbleweed Studios from May 2008 to February 2009 with good friend Jason Varley at the production helm. 'My Love is Dead' was launched in a packed Spirit Store, Dundalk on May 16th 2009. The album launch was then followed by a nationwide tour taking in venues in Dundalk, Drogheda, Mullingar, Armagh, Warrenpoint, Waterford, and Dublin. This was followed by the band being voted 'Best Metal Band' at the Dundalk Music Awards.
By the end of 2010 the band had dissolved. With Roni and Ger quickly went on to for their current band WORDS THAT BURN.
'My Love is Dead' was released through 'Flat Battery Records' and is currently available for free download through the bands Soundcloud page.
Genres
Alt Rock, Alternative, Heavy Rock, Nu-Metal, Rock
Members (Current)
Ronan McCrory - Vocals / Guitar
Kevin Carroll - Guitar / Vocals
Ger Murphy - Bass / Vocals
Ian Harold - Drums