Purple Haze
Hard Rock / Co. Waterford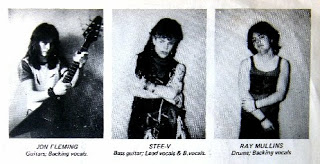 Links
PURPLE HAZE were a melodic hard rock band from Waterford/Wexford. They formed in 1980 around the original trio of John Fleming (guitar), Jim Ryan (bass) and Ray Mullins (drums). They recorded several demo tapes and gigged extensively, even supporting Mamas Boys in 1982. There were various line-up changes with Paul Bolger, Paul Purcell and Martin"Quig" Quigley all on lead vocals for a period before Stephen "Stee-V" Roche, who had replaced Jim Ryan on bass, took over lead vocals.
It was this 3-piece line-up that recorded their one 7″ single, 'Hear It On The Radio/Forever Lost', in 1985. They got a little airplay with the single and it was well received by the music press, but they didn't get the big break-through they had hoped for so split later that same year.
Latest news on PURPLE HAZE is that they have reformed for a number of gigs in 2011. The current line-up has been boosted from a trio to a 5-piece. With Mick Fleming joining as a second guitarist and Stephen O'Hanlon taking over vocal duties.

"In late 1985 Jon Fleming (guitar) and Ray Mullins (drums) formed a short term recording project called Dirty Fingers with Paul Purcell (vocals) and Robbie Dunphy (bass). Though they recorded a demo tape at Slane Studios, it was always intended as a short term project and Ray Mullins and John Fleming emigrated to the USA where they formed a band called Roisin Dubh with Shandeen Martgan (vocals and keyboards) and Stanley Joseph (bass)."
–  taken from WWW.IRISH-ROCK.ORG
Counties
Waterford, Wexford
Members (Current)
Stephen "Stee-V" Roche - Vocals/Bass
Jon Fleming - Guitar
Ray Mullins - Drums
Mick Fleming - Guitar
Stephen O'Hanlon - Vocals
Members (Former)
Paul Bolger - Vocals
Jim Ryan - Bass
Paul Purcell - Vocals
Martin "Quig" Quigley - Vocals
Robbie Dunphy - Bass