Meiche
Black Metal / Co. Cork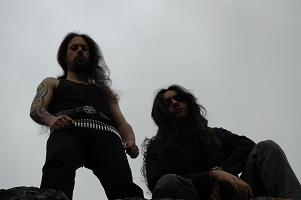 Russell "Taranis" Ó'Ríagáin and John Murphy got to know each other through the metal scene in Cork back in the early 2000's. Russell was looking for someone to play drums on his Black Metal project called MEICHE and John was also looking to get his FOR RUIN demos recorded. So it made sense for both parties to combine their resources and help each other out. Both demos were recorded at John's home over a few months around the end of 2003, beginning of 2004.
Of the MEICHE tracks recorded, 'Díoltas' was originally a track that Russell had written while in BELINUS and was played by that band live a number of times. 'Sadistic Necrohell Torture' was written specifically for this MEICHE project although he had rehearsed it previously with other BELINUS members. And 'Adversary' was originally written by Russell around 1997 back when he was in AVATAR. It was also rehearsed by that band too and was intended to be on the demo for his previous band, DEMOGORGON (renamed ACOLYTES OF DEMOGORGON. John also provided lead solos for 'Díoltas' and 'Adversary' and as Russell put it, "he even managed to stick keyboards on the third track while I was taking a shit one day".
A cover version of CELTIC FROST's track, 'Return To The Eve' was also record and included, and although it's listed as a MEICHE track, John played all the music and Russell contributed only vocals. There was another track intended to be on the MEICHE side of the demo which was recorded by Russell and John in the demo's early rehearsal sessions but didn't end up being included. I don't know the name of this track but Russell says it was another older track the he had first written back in 1996. They also recorded a cover of ROTTING CHRIST's 'The Sign Of Evil Existence', but the results weren't that never saw the light of day, and another track called 'Bringer of Chaos' that was intended to be included on or a split 7″ with MABUS.
There was a French label that wanted to put out the MEICHE demo as a tape back in 2010, but it was never finalised. Russell also has material for a follow up MEICHE release written and ready to record as soon as time and other commitments permit.
Members (Current)
Russell "Taranis" Ó'Ríagáin - Vocals/Bass/R.Guitar
Members (Former)
John Murphy - Drums/Keyboards/L.Guitar