Dominus
Black Metal / Co. Cork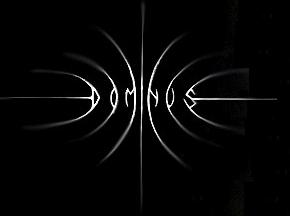 Links
DOMINUS were a Death Metal band hailing from Cork who were originally formed in the mid 1990's by Ollie O'Shea taking on all instrument duties with Ritchie Hogan on vocals.
A full line-up was assembled for gigging and also for the later demos.
All of DOMINUS' demo tracks have been made available to download online by Ollie from the band pages he's set up at ReverbNation and on Facebook. I've also provided Rapidshare links for each individual demo, all of which you can download from below.
"DOMINUS as a band have been comprised of either two, five or just one people(s) over the years. And as such I'm not sure when you could put the starting point at. Somewhere in the mid to late nineties is a safe bet. While the name 'DOMINUS' itself was nurtured since secondary school in the late eighties/ early nineties. At the moment there are nominally two members and the mysterious Voirel Haeso joining in from another realm. The two being Ollie O'Shea on instruments in general and Richie Hogan on vokills. The band are on a hiatus at the moment due to travel commitments. These songs are lifted from the 4th demo 'Minions' and as such represent a finality of the journey so far. All demos so far have had a complex death/black style to them and this one is possibly the most accessible to date. Whether this means the end of the road for dominus and new projects, or a change in direction I'm not sure yet."   –   Ollie O'Shea
Genres
Black Metal, Death Metal
Members (Current)
Ollie O'Shea - Guitars
Ritchie Hogan - Vocals
Jer "Winter" Spillane - Bass
Oisin De Burca - Guitars
Connor O'Keefe - Drums