Demogorgon
Death Metal / Co. Cork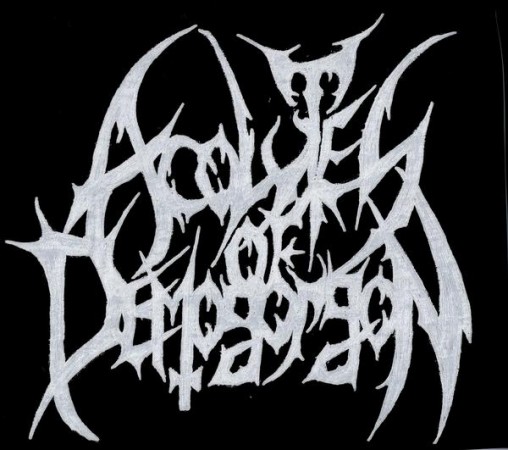 Links
ACOLYTES OF DEMOGORGON first formed in March 1999 by Taranis and Erebus as DEMOGORGON from the ashes of their previous Death/Black Metal band called AVATAR. Although it wouldn't be until 2001 that the band began to rehearse properly due to Taranis' involvement with Cork's Pagan/Black Metal band BELINUS and also with Acheron Promotions/Records which he was the founder and ran for a number of years with Mick O'Sullivan (CARNÚN RISING). The members had been writing material in the meantime, and in January 2002 the band entered Cork's BPM studio to record the debut demo, with BELINUS' G. Blackheart filling the drum stool. It was recorded during the same session that 'Battlechants' was recorded.
The three demo tracks included here are really quite good. The demo is definitely straight up Black Metal. No bullshitting with any keyboards and samples. Just good old chainsaw guitars and cackling vocals. Well worth checking out if you're into the older more traditional styled Black Metal.
The band made their live debut the following July as support to CARNÚN RISING and HEXXED at Cork's Nancy Spain's. Two dates in support of England's WULF followed a couple of weeks later. One in Cork's infamous Fred Zepplins and the night after in the High Stool in Limerick. There have been several line-up difficulties down the years. But the core of Taranis and Erebus has been constant. These line-up problems meant that the band did not gig again until August 2004, headlining the 2nd infamous 'Carnage at the Castle' underground open air show. Commandant O'Keeffe, then of MABUS 666 and DOMINUS took over drumming duties. This would be the bands last live appearance to date. Although a new drummer was found in Maledict, also of EX INFERUS, in late 2004. It was around this time that they changed the band name to ACOLYTES OF DEMOGORGON because of the increasing number of bands also going under the DEMOGORGON moniker.
Rehearsals began in earnest in February 2005. Col Roberts, also of EX INFERUS filled in on bass duties while Taranis had broken his hand. The band remained dormant from 2005 to 2010 and rehearsals have been conducted at sporadic intervals with Richie and Liam basically being the two main participants. A corpus of new material has been written for possible recording purposes, but there are no real plans to record or rehearse on a full scale anytime in the near future because of members other commitments.
There was also some label interest over the years. Czech Label Ravenheart Productions expressed an interest in re-release the bands demo on cassette. There was also a three way split album planned through another Czech label called Agni Productions. The release was to also include DETONATOR666 (featuring Vlad, formerly of MANIAC BUTCHER) and one other band.
Members (Current)
Taranis "Russell Ó'Ríagáin" - Bass/Vocals
Erebus "Liam Griffey" - Guitars
Dorcha "Richie Casey" - Guitars
Maledict "Dave Murphy" - Drums
Members (Former)
G. Blackheart "Gordon O'Sullivan" - Drums
Commandant "Connor" O'Keeffe - Drums
Colin Roberts - Bass (session)