High Speed Death – No.8 (June 1994)
Originall Published: 1994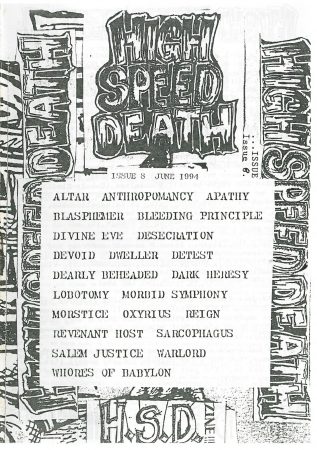 "HIGH SPEED DEATH" – Issue No.8
Fanzine from June 1994 compiled by Irish underground veteran Cathal Rodgers with contributions from Jeroen Koolen, Gaz Davies, Joe Gallagher and Alan Murphy.
Featuring interviews and reviews from Irish acts… DREAMSFEAR, APATHY, DWELLER, CORPSE CANDLE, LAMENTATIONS, AFTERLIFE.
As well as international acts… THE REIGN, LOBOTOMY, ANTHROPOMANCY, ALTAR, DETEST, REVENANT HOST, MORBID SYMPHONY, MORSTICE, DEARLY BEHEADED, BLEEDING PRINCIPLE, DEVOID, OXYRIUS, WHORES OF BABYLON, BLASPHEMER, SARCOPHAGUS, DIVINE EVE, SALEM JUSTICE, WARLORD, DESECRATION, 
Also features 'Scene Reports' from Scotland, Costa Rica and  Malta.
---