Flail Ov Venom – Vol.2 (Feb 2020)
Originall Published: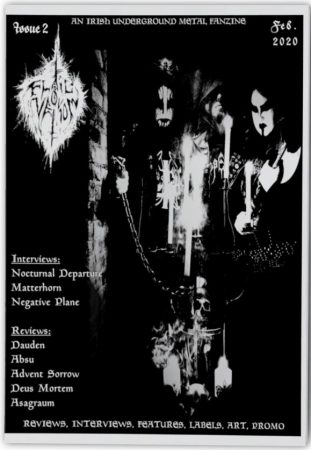 FLAIL OV VENOM is an underground metal fanzine based in Cork, Ireland.
The zine is created with the upmost ethos of the DIY and extreme metal scene, both local and international.
DOWNLOAD ISSUE #2 from FH Website… (will be add when available)
Vol.2 – Feb 2020… This issue features interviews with Swiss speed metal trio MATTERHORN, US black metal band NEGATIVE PLANE and the Canadian black metal act NOCTURNAL DEPARTURE.
Features reviews of PLAGUE PIT (including fre download code), NIGHTVERMIN, DAUDEN, WEEPING SORES, DEUS MORTEM, ASAGRAUM, DAUBUS, PAGAN MOON, SANGUINE MYST, ADVENT SORROW, NYCHTOPHILIA, NOCTURNAL DEPRESSION & VALAC…
New content, including box-set reviews (ABSU), old-school record recommendations (WARRANT, EVIL) and film reviews…
Comes in a plastic cover, printed in black and white… €3 plus shipping…
Enquiry at [email protected].
-BLACK, SPEED, TERROR &HEAVY DEATH FOR ETERNITY-