Flail Ov Venom – Vol.1 (Sept 2019)
Originall Published: 2019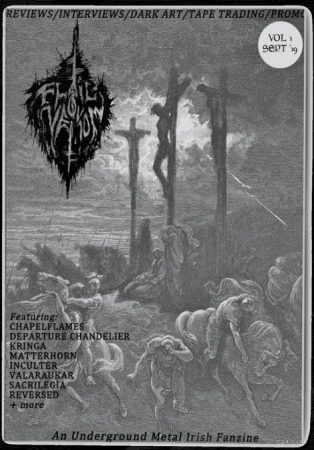 FLAIL OV VENOM is an underground metal fanzine based in Cork, Ireland.
The zine is created with the upmost ethos of the DIY and extreme metal scene, both local and international.
Vol.1 – Sept 2019… Released at the first live outing for Cork band GEALACH, whose members were involved in the creation of the zine. Other bands plaing on the night were Dublin blackened thrashers SACRILEGIA and Limerick's IMRAMA. 30 copies were made available on the night of the gig. Each copy was €3 with flyers, music download codes, a FLAIL OV VENOM sticker and is kept within a plastic sleeve.
Featuring 22 pages of music reviews, interviews, art, adverts and more. Volume 1 features an interview with Faltanas from Dundalk's CHAPELFLAMES. Local Irish reviews for NEAMH-MHARBH, DEAMHAN FOLA and SACRILEGIA. As well as reviews of releases from PANZERWAR, INCULTER, DEPARTURE CHANDELIER, MURK RIDER, SANGUINE RELIC, THAT WITH TUSKS, KVELGEYST, PNAKOTIC VISION, KRINGA, VALARAUKER, ZOTZ, REVERSED and MATTERHORN… A collector's item for local heads for sure.
There is also a new tape trading network/system that the the zine creators are setting up. Enquiry at [email protected].
-BLACK, SPEED, TERROR &HEAVY DEATH FOR ETERNITY-