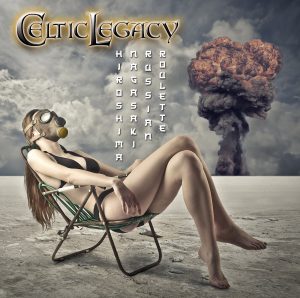 Cover version of a popular song written by Jim Page and previously covered by Moving Hearts in 1981. And introducing John Bonham as CELTIC LEGACY 's new singer.
John Bonham: Vocals
Dave Morrissey: Guitars, Keyboards, Drum Programming
Dave Boylan: Bass
Produced by Dave Morrissey
SUPPORT OUR KICKSTARTER CAMPAIGN.
https://www.kickstarter.com/projects/celticlegacyredux/celtic-legacy-redux-cd-manufacturing
CELTIC LEGACY is currently recording a new, revamped version of our 1998 debut album, titled "Redux", which we hope to release in early 2021. We need your help to raise the required funds for studio polishing and CD manufacture. If you like this track please consider donating even a small amount to help us get this new project completed.
We would appreciate it if you could donate a royalty to the songwriter or perhaps buy some of his music.
To do so, please visit Jim Page's Bandcamp at… https://jimpage.bandcamp.com
'Hiroshima Nagasaki Russian Roulette'
©James Patrick Page
Recorded with the kind permission of the author and under licence obtained from The Harry Fox Agency, Inc.
A SUBSIDIARY OF NATIONAL MUSIC PUBLISHERS' ASSOCIATION, INC. License No. 1459281412
---
https://celticlegacy.bandcamp.com/track/hiroshima-nagasaki-russian-roulette
Lyrics:
They dropped the bomb in '45 to end the world war
No-one had ever seen such a terrible sight before
The world looked on with eyes wide to see where it might lead
The politics of power, they passed around their seed
It was a time to remember, we never can forget
They were playin' Hiroshima, Nagasaki, Russian Roulette
They arose like the saviours of our modern human race
With radiation haloes, that hung about their face
With the key to the sure-cure, the treatment of our Ills
A hot-shot of cobalt, and a pocket-full of pills
Speaking always of the enemy, who lurked across the sea
While they crept in among us like a carrier disease
Deep down inside the bunkers of the concrete and the lead
Einstein's disciples working steadily ahead
Making heavy metal power-plants to fire the city lights
All you can hear in the underground is the humming through the night
And the walls of tight security, circle all around
Where they spill out their poison and bury it in the ground
I know the minds behind them, they are riddled full of holes
Not to be trusted with their hands at the controls
Their eyesight it is twisted by the glory of their careers
The heaped praise and flattery is music to their ears
To listen to them talk about how it hasn't happened yet's
Like playing Hiroshima, Nagasaki, Russian Roulette