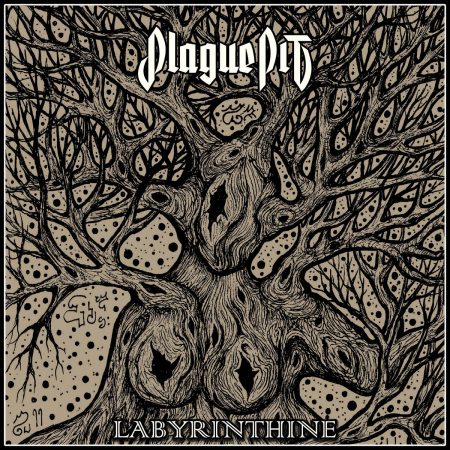 We're currently working on restoring the stream for this release. Please check back soon.
TRACK LISTING:
1. Accursed Clay
2. The Gift of Unknowing
3. Feverish Stupor
4. Elixir
Release Date: 13th September, 2019
BUY/DOWNLOAD: Bandcamp
All music written and performed by Plague Pit.
Produced by Plague Pit and Diogo C.
Recorded at Black Void Studios MKIII, Dublin, Ireland
Mixed and mastered by Diogo C. at LCS, Nova Lima, MG, Brazil
Artwork by Luciana Nedelea
Written and recorded in 2019, Labyrinthine is Plague Pit's third release. This EP was inspired by feverish visions induced by the ecstasy of immoral rites and by the restless voices that equally torment and caress the minds of the Adepts.

The release contains 4 canticles of hermetic Blackened Death Metal filled with savage twisted riffing, unorthodox rhythms and an oppressive and demonic atmosphere. Labyrinthine is another step forward from the unapologetic primitivism of Plague Pit's debut while still retaining the familiar rawness and aggression of the previous releases.