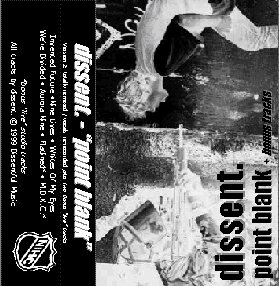 We're currently working on restoring the stream for this release. Please check back soon.
TRACK LISTING ;
1. Invented Future
2. 9 Lives
3. Whites Of The Eyes
4. We're Divided
5. Aurora 9
………………………………
6. Flatlined (live)
7. M.K.D.C. (live)
Thanks to Paul Appleyard for giving me permission to feature this Demo on the Archive.
………………………………………………………………………………………….
This Demo EP was actually released twice.
The first issue didn't have the 2 live tracks on the end.
Recorded at The Nerve Center and Blast Furnace, Londonderry (14th – 17th January '99).
Recorded and Produced By Mik O'Connell.
Remixed by Gareth and Paul, Sometime in March '99.
The remixed version includes two extra tracks: Flatlined and M.D.K.C.
Recorded live in Blast Furnace as part of a sound engineering course (early May '99).
Vocals – Gareth beckett
Guitar – Paul Appleyard
Guitar – Ryan McCallum
Drums – Damo Donaghy
Bass – Chris Scullion