Disfits [Misfits Tribute] by Dissent (Hardcore, 1999)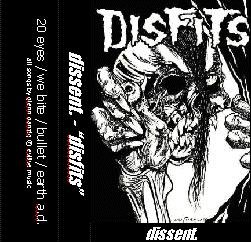 We're currently working on restoring the stream for this release. Please check back soon.
TRACK LISTING :
1. 20 Eyes
2. We Bite
3. Bullet
4. Earth A.D.
Thanks to Paul Appleyard for giving me permission to feature this Demo on the Archive.
Recorded at The Nerve Centre, Londonderry, March '99. Engineered by Paul Clegg and Johnny Mitchell.
Recorded for inclusion on the "Here Come The Dead… A Tribute to the Misfits 2", an internet only release via the old 'Misfits Bible' mailing list…
All four tracks ended up going on the tribute, released by BlackLight Records: BLR 138 (November 11, 1999) 1,000 copies.
Vocals – Gareth beckett
Guitar – Paul Appleyard
Guitar – Ryan McCallum
Drums – Damo Donaghy
Bass – Chris Scullion