Reduced To A Pile Of Putrefying Slop by Debridement (Brutal Death Metal, 2016)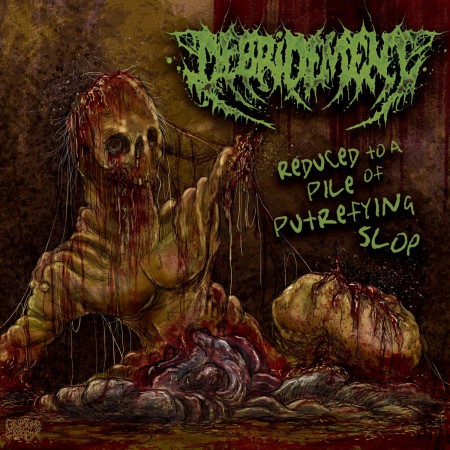 We're currently working on restoring the stream for this release. Please check back soon.
TRACK LISTING ;
1. Obliterated
2. Bits Of Her Splattered Everywhere
3. Fermented Fecal Feast
4. The Ballad Of Carlos Estevez
5. Reduced To A Pile Of Putrefying Slop
6. Shards Of Bone
BUY/DOWNLOAD : BANDCAMP  –  ROTTEN MUSIC  
Connor Brown – Gutturals / 8 String Guitar / Drum Stuff.
Guest Vocals ;
Tom Blackwell (ex Blasphtized/ Days Of Perversion/ ex CREPITATION).
Jon burr (Omnipotent Hysteria).
Artwork by Gruesome Graphx.