Xerosun
Fibber Magees, Dublin (2016)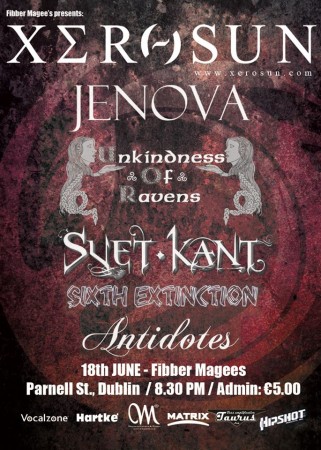 Editor Notes:
GIG IS DOWNSTAIRS FOLKS!
Xerosun
Jenova
Unkindness Of Ravens
Svet Kant
Sixth Extinction
Antidotes
€5 on the door!
Doors @ 8:30pm
First band on 8:45pm
Antidotes – 8:45-9:15pm
Sixth Extinction – 9:30-10:00pm
Set Kant 10:15-10:45
Unkindness Of Ravens – 11:00-11:30pm
Jenova – 11:45-00:15am
Xerosun – 00:30-1:30am
This event took place on Saturday, 18th June 2016 at Fibber Magees, Dublin .
If you have any video links or photos, feel free to share them below.