Walpurgis Night
The Loft, Galway (2018)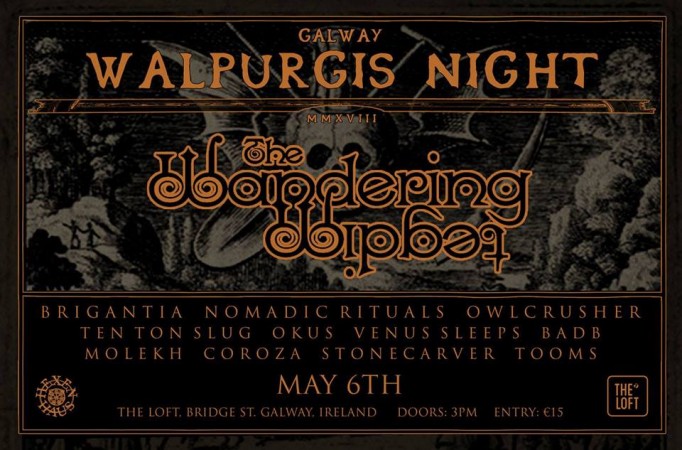 Editor Notes:
To continue the ancient tradition Hexen Haus Promotions presents:
Walpurgis Night VII, bank holiday weekend Sunday, the 6th of May, 2018.
The Wandering Midget (Official), traditional doom metal band hailing all the way from Lappeenranta in Finland are a profound oddity. Formed in 2005 and first gaining international cult following with 'I Am the Gate' compilation in 2007 followed by the excellent 'Serpent Coven' and 'From the Meadows of Opium Dreams' more recently. Their sound is for true fans of old school doom metal taking reference from Black Sabbath and fellow Fins Reverend Bizarre. Top class songwriting and great singing defines the band. Elements of Epic Metal, NWOBHM touches of seventies rock , and heavy doom riffing, satisfies any ear for heavy music.
https://thewanderingmidget.bandcamp.com/
Brigantia – Doom Metal (Tipperary)
http://brigantia1.bandcamp.com/
Nomadic Rituals – Sludge/Doom Metal (Belfast)
http://www.nomadicrituals.co.uk/
Ten Ton Slug – Connemara Sludge Metal (Galway)
http://tentonslug.bandcamp.com/
Owlcrusher – Blackened Doom/Sludge Metal (Belfast)
https://owlcrusher.bandcamp.com/
Venus Sleeps – Psychedelic Doom Metal (Dublin)
http://www.venussleeps.org/
Okus – Punk Metal Crust Doom (Drogheda)
https://okus.bandcamp.com/
Badb – Hardcore (Dublin)
https://badbcatha.bandcamp.com/
Molekh – Black/Death Metal – Avant-garde (Dublin)
https://molekh.bandcamp.com/releases 
Coroza – Stoner/Sludge/Doom Metal (Cork)
http://coroza.bandcamp.com/
Stonecarver – Drone/Doom Metal (Galway)
https://stonecarver.band/
TOOMS – Stoner/Sludge/Punk (Limerick)
https://tooms.bandcamp.com/album/uhm
Come to the Sabbath!!!
Visitor Info:
Accommodation options for anyone visiting Galway:
Sleepzone, Barnacles, Kinlay Hostel, Celtic Tourist hostel, 
Woodquay hostel, Galway City Hostel (has bar), Snoozles, Savoy Hostel, Salmon Weir Hostel.
Find them on: hostelworld.com or hotels.com, booking.com, failing that airbnb normally has good close options.
For anyone thinking of camping, Salthill Campsite about 40min walk or €10 cab to Eyre sq. or 401 bus every 20min 
Cheapest local cab is Claddagh +353 91 588 434
The Loft, Bar SEVEN (formerly Kelly's upstairs)
5-7 Bridge Street,
Galway
Doors: 2.15PM
Entry: 15 Euro
Online tickets: https://hexenhaus.ie
This event took place on Sunday, 6th May 2018 at The Loft, Galway .
If you have any video links or photos, feel free to share them below.