URBAN ASSAULT 2024
An Spailpín Fánach, Cork (2024)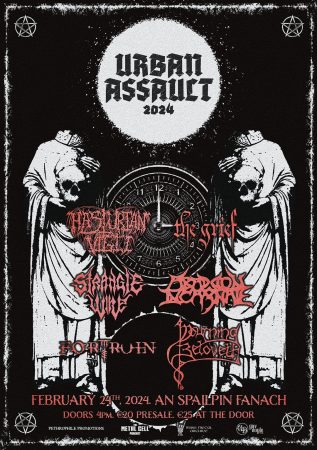 Editor Notes:
Finally! Time to let this one out of the bag.
Tickets available now… https://www.eventbrite.com/e/urban-assault-2024-tickets-619394153587
===============================
The moment you have all been waiting for
I am pleased to announce the line up for urban assault 2024
After taking a two year break from music promotion,it really truly gives me great joy to announce this absolutely killer line up to you !
Some old faces that have played for us before such as Abaddon Incarnate , Strangle Wire and The Grief
Some new blood in the form of Hasturian Vigil
Absolute icons of the cork metal scene For Ruin make a return for this very special show
And last but not least, a band that we have wanted so much for the last 8 years , Mourning Beloveth .
I hope you are as thrilled as me, tickets go on sale soon and more in depth info about these bands also so come .
Artwork by Gavin Doyle
Photography to be done by: Marcin Lewandowski
We are also working exclusively with The Metal Cell Podcast for some chats leading up to the event .
#death #irishmetal #doommetal #thrashmetal #deathmetal #irishmetal #ireland #urbanassault
This event takes place on Saturday, 24th February 2024 at An Spailpín Fánach, Cork .
If you have any video links or photos, feel free to share them below.