Theories Divide
On The Rox, Dublin (2016)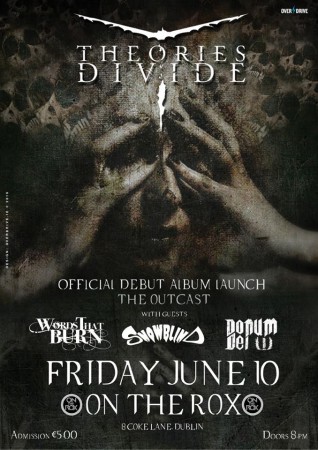 Editor Notes:
Theories Divide are launching their album The Outcast in On The Rox.
On the night, the first physical copies will be sold outside of pre-order and will feature a line up of amazing support bands and Theories Divide playing all the album songs as well as some old stuff and something a bit new.
Support is coming from the amazing…
Words That Burn: https://www.facebook.com/wordsthatburn
Snowblind: https://www.facebook.com/SnowblindIreland
Donum Dei (Belfast): https://www.facebook.com/Donum-Dei-144914665575849

There will be CDs, wristbands and t-shirts for sale as well as some giveaways and a whole lot of alcohol.
Doors: 7pm
Entry: €5
This event took place on Friday, 10th June 2016 at On The Rox, Dublin .
If you have any video links or photos, feel free to share them below.