The Old Firm Casuals
Cyprus Avenue, Cork (2016)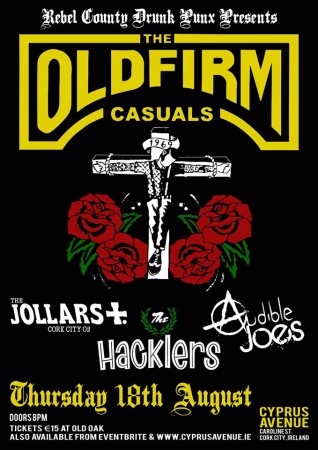 Editor Notes:
Rebel County Drunk Punx are proud to welcome the Old Firm Casuals back to Cork! Their last appearance was stellar so don't miss this one…
Old Firm Casuals are an American Oi! Band from San Fransisco. Formed in 2010, they've made a name for themselves on the Oi! Scene through their powerful live performances and a series of great releases. Their most recent offering, "A Butcher's Banquet" is due to be out mid-June on Oi! The Boat and Randale Records.
https://www.youtube.com/watch?v=XDzttjr5jEY
Also on the bill are ska group the Hacklers who have recently put out their debut album "Between The Lines" on Contra records. With a sound rooted in the late 80s Ska explosion style, they have come a long way in a short time to be regarded as one of the island's top Ska acts.
https://www.youtube.com/watch?v=VdDmeJKWaVs
No Cork Oi! night would be complete with the city's own Grade A messers, the Jollars. Their debut album "Half Cut" (out on Aggrobeat Records) has gotten some great reviews so the band promise to try and not have much Beamish before they go onstage to try and do it justice!
https://www.youtube.com/watch?v=aMsS51z6V48
Fellow Cork bais Audible Joes will be opening proceedings. Adept at a range of styles of Punk Rock, they combine melodic and harder edged material to great effect, with super energetic live performances. Their album "Medicine For Modern Living" is a cracker!
https://www.youtube.com/watch?v=r6zjfZ9u_Xc
Tickets available now from the link above, get em while they're hot!
This event took place on Thursday, 18th August 2016 at Cyprus Avenue, Cork .
If you have any video links or photos, feel free to share them below.