The Crawling
Sally Longs, Galway (2017)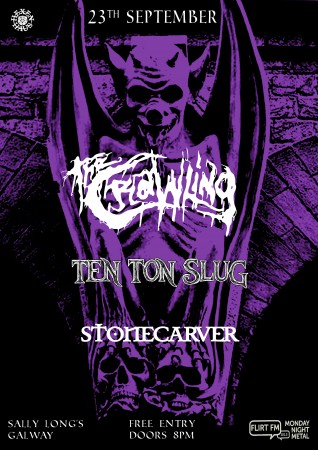 Editor Notes:
Hexen Haus presents to you…
THE CRAWLING
TEN TON SLUG
STONECARVER
23rd Sept 2017.
33 Abbeygate Street, Galway.
Doors : 08:00pm
FREE ENTRY!!!
Belfast's most miserable sons, THE CRAWLING make their Galway debut with local assistance from Galway's native masters of slime and sludge… The mightiest gastropod mollusc of them all… TEN TON SLUG!
And to welcome all the early revellers… some Ritual Drone Doom from Galway City in the noisings of STONECARVER.
*******************
THE CRAWLING…
http://www.irishmetalarchive.com/artists/the-crawling/
https://www.facebook.com/thecrawlingband/
https://thecrawlingband.bandcamp.com/releases
https://www.youtube.com/channel/UCH3BctSUcu444jfMp0MDY1A/videos
Formed in the winter of 2014 against the bleak concrete backdrop of Lisburn city, Northern Ireland, THE CRAWLING have came a long way since their humble beginnings. Influenced by PARADISE LOST, KATATONIA and BOLT THROWER, THE CRAWLING use a guttural vocal to combine melancholy with weight, churning out a heavy, doom/death ensemble. January 2015 saw the debut single "Choking On Concrete" which put the band on the scene, followed in October 2015 by the critically acclaimed "In Light of Dark Days" 3 track EP. 2016 was a massive year for the band… most notably performing at Inferno Metal Festival in Norway, and Bloodstock Open Air in England. The festival appearances have been reinforced by successful headline shows at home, which culminated in a main stage slot at the highly respected Siege of Limerick festival in Southern Ireland.
With the announcement of the bands debut album "Anatomy Of Loss" now brought to the fore, the band have revealed an album trailer which offers the first glimpse into what's over the horizon. Set for release 7th April 2017 via Grindscene Records, featuring no less than seven tracks expressing desperation and defeat and artwork from Travis Smith (ANATHEMA, BLOODBATH, DEATH…), THE CRAWLING strive to spread their brand of misery ever further.
"Three old death metal heads playing slow death metal. Fueled by the death and misery encountered in the last 40 years."
*******************
TEN TON SLUG…
http://www.irishmetalarchive.com/artists/ten-ton-slug/
https://www.facebook.com/TenTonSlug/
https://tentonslug.bandcamp.com/
Based in Galway and originally from the depths of Connemara in the west of Ireland, Ten Ton Slug has ingested five humans and leaves a trail of groove-laden sludge metal in its wake.
Gigging started in early 2014 and the band released a live demo 'Live at the Oaks' in September 2015, followed by a very well received debut EP 'Brutal Gluttonous Beast' in October 2016.
The Slug has worked hard, building a reputation for delivering formidable live performances and has gigged extensively, supporting bands such as Ohhms, Planet of Zeus and Slabdragger and most recently securing a support slot with Crowbar for both of their Irish shows. In addition to this, Ten Ton Slug won the Metal 2 the Masses Ireland competition in May 2016 and played to a packed New Blood Stage at Bloodstock Festival in the UK.
The band are hard at work writing new material for release in 2017, alongside being booked for a number of shows across the UK and Ireland commencing in early March, with more Irish, UK and European gigs in the works for later in the year.
"The Slug is hungry…. The Slug shows no mercy."
*******************
STONECARVER…
http://www.irishmetalarchive.com/artists/stonecarver/
https://www.facebook.com/stonecarverband/
https://www.youtube.com/watch?v=lDgPkSKj4o0
"Ritual Drone Doom from Galway City."
*******************
This event took place on Saturday, 23rd September 2017 at Sally Longs, Galway .
If you have any video links or photos, feel free to share them below.