Stereo Nasty
Fred Zeppelins, Cork (2017)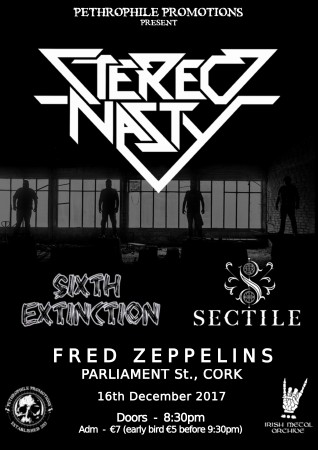 Editor Notes:
Pethrophile Promotions with the Irish Metal Archive are proud to present…
Stereo Nasty
Sixth Extinction
Sectile
Fred Zeppelins, Parliament Street, Cork
Saturday, December 16th
Doors – 20:30pm
Adm – €7 (early bird €5 before 21:30)
*****************************
STEREO NASTY…
Old school Heavy Metal band from Carlow/Kildare who initially just consisted of it's two founding members, Adrian Foley and Mick Mahon, who wrote and recorded the bands three song demo in early 2014. They wield a deadly classic 80's inspired style of metal… Priest, Crüe, Kiss and more recently Steel Panther (although Stereo Nasty are deadly serious) all come to mind. A classic 80's retro vibe simply oozes out of every riff and note played and the music is perfectly crafted as an homage to the heroes of Classic Metal.
A full line-up was quickly assembled with Fran Moran on drums and Rud Holohan on bass. STEREO NASTY have gone from strength to strength during 2016, which saw the band gigging and touring all across Europe since the release of their amazing debut album "Nasty By Nature". And they show no signs of easing off the accelerator any time soon.
The bands second album "Twisting The Blade" was released during the Summer of 2017 with CD and LP versions coming out through Stormspell Records and Diabolical Might Records.
https://www.irishmetalarchive.com/artists/stereo-nasty/
https://www.facebook.com/stereonastyire
http://stereonasty.bandcamp.com/
*****************************
SIXTH EXTINCTION…
Founded in late 2013 by Greg, Wojtek and Dave ,Sixth Extinctions origins were in the heavier / death metal side of the genre until the realization that all of the members enjoy the bouncier groove metal side of things more ,thats not to say that we dont enjoy the odd bit of grind either , Sixth extinctions sound is about taking the fun elements of metal and creating songs that are fun to play and even more enjoyable to listen to.
https://www.irishmetalarchive.com/artists/sixth-extinction/
https://www.facebook.com/sixthextinctionband/
https://sixthextinction.bandcamp.com/
*****************************
SECTILE…
Sectile are a five-piece progressive metal band from Dublin, Ireland. Drawing inspiration from a medley of different musical backgrounds, the classics up to contemporary metal, they are wholly committed to their songwriting craft: from light to dark, the band revels in every part of the spectrum, seamlessly alternating between soaring soundscapes, heavy ear-worms, to hard-hitting riffage.
Sectile spent a good part of 2017 recording their self-titled 4-song debut EP, to be launched one year after the band's officially announced their existence. With this first studio release, Sectile plans to build a strong foundation looking ahead to 2018.
https://www.irishmetalarchive.com/artists/sectile/
https://www.facebook.com/sectile/
https://sectileofficial.bandcamp.com/
This event took place on Saturday, 16th December 2017 at Fred Zeppelins, Cork .
If you have any video links or photos, feel free to share them below.