Snowblind
Kasbah Social Club, Limerick (2016)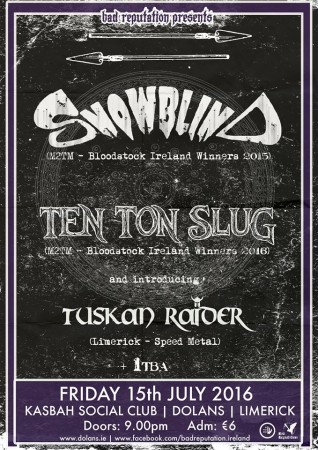 Editor Notes:
Bad Reputation presents:
Snowblind & Ten Ton Slug (Double Header)
Ireland's Metal2TheMasses winners form 2015 and 2016 respectively. Snowblind were the representitive act from Ireland at Bloodstock, UK in 2015 and Ten Ton Slug will be there in the same capacity in August 2016.
Support on the night comes from:
Tuskan Raider
(Speed Metal)
(Limerick's latest editionto the Heavy Metal ranks)

Friday 15th July 2016
Kasbah, Dolans, Limerick
Doors: 9pm
Adm: €6
This event took place on Friday, 15th July 2016 at Kasbah Social Club, Limerick .
If you have any video links or photos, feel free to share them below.