RoadBurren Fleadh II
The Burren Storehouse, Clare (2017)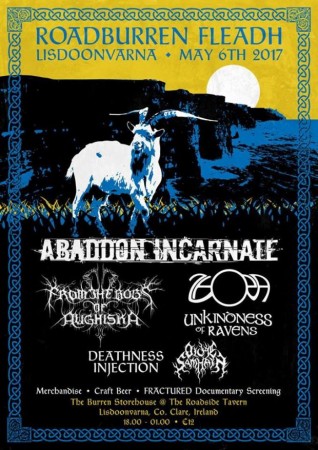 Editor Notes:
RoadBurren Fleadh – Ireland's first festival for dark and heavy music in County Clare – returns for its second year and promises to bring some of the country's most interesting heavy and experimental artists to Lisdoonvarna on May 6th 2017.
The event offers something completely unique to any other music festival in the country and is set in the tragically beautiful heart of the West of Ireland in County Clare.The Burren's harsh, karst and almost lunar landscape and unique peculiarity is an apt metaphor for much of the music on offer at RoadBurren 2017, where darkness and avant-garde heavy music is the theme.
This year's event will be headlined by ABADDON INCARNATE – the Irish death grind legends from Dublin have released several albums and have toured extensively worldwide and were the first extreme Irish metal band to ever play in Ecuador, Colombia and Peru.
FROM THE BOGS OF AUGHISKA are a truly unique band who deliver a gloomy take on dark ambient mixed with traditional black metal which is taking inspiration from Ireland's bleak environment and its rich history and culture, including the rough landscape of the Burren. Since their critically acclaimed debut album in 2010, FTBOA have shared stages with the likes of Anaal Nathrakh, Arcturus, Dragged Into Sunlight, Ulver, Wardruna to name a few and are currently working on album number 3.
Also on the bill are progressive sludge outfit ZHORA who are hailing from South Tipperary; UNKINDNESS OF RAVENS who play haunting, melancholic music that is an esoteric mix of darkness, hope, psychedelia and the occult; DEATHNESS INJECTION a dark experimental two-piece group from Dublin.
*** Cork based Dark Metal band OÍCHE SAMHAIN pulled out if this event and disbanded shortly before it took place. ***

RoadBurren Fleadh is an one day festival that runs from 6 PM to 1 AM and will take place at Lisdoonvarna's very own The Burren Storehouse venue on 6th May 2017.
The event is on sale now, tickets and a special festival T-shirt bundle can be purchased via Paypal from [email protected] (please use 'Friends and Family' option to avoid extra charges).
Early bird ticket € 10
Early bird ticket and Festival T-shirt bundle € 25
Event social media
Facebook page – https://www.facebook.com/roadburren
Event page – https://www.facebook.com/event s/1169451203170745
Band socials
Abaddon Incarnate – www.facebook.com/abaddonincarnate
Deathness Injection – www.facebook.com/DeathnessInje ction
From The Bogs Of Aughiska – www.facebook.com/fromthebogsofaughiska
Oíche Samhain – www.facebook.com/oichesamhainireland
Unkindness of Ravens – www.facebook.com/unkindnessofravensband
zhOra – www.facebook.com/zhOramusic
VENUE INFORMATION
The Burren Storehouse is located in the heart of Lisdoonvarna, next door to the Roadside Tavern on Kincora Road, County Clare.
http://www.roadsidetavern.ie/r oadside/?q=burren-storehouse
http://www.roadsidetavern.ie
TRAVEL INFORMATION
Travelling by coach…
The venue is conveniently close located to the only Eireann coach stop in town which is 1 minute away from the venue.
http://www.buseireann.ie 
Travelling by plane…

The nearest airport to the venue is Shannon airpot which is a 56 mins (59.4 KM) drive from Lisdoonvarna. Both Ryanair and Aer Lingus operate daily flights.
http://www.shannonairport.ie 
Travelling by car…
Ennis – 36mins (34.9KM)
Limerick – 1h7mins (73.2KM)
Galway – 1h20mins (64.8KM)
Tipperary – 1h35mins (114KM)
Cork – 2h27mins (172KM)
Dublin – 3h5mins (246KM)
Belfast – 4h35mins (407KM)
ACCOMMODATION
The Burren Hostel is within 5 minutes walking distance to venue – http://www.sleepzone.ie/the- burren-hostel
Contact [email protected] and quote 'ROADBURREN' for discounted festival prices:
Prices per night:
Dorm – €19/bed
Twin/Double – €49/room
Single : €39/room
4-Bed room: €69/room
6- Bed room: €99/room
The town of Lisdoonvarna also offers a number of B&B's and Hotels:
http://www.ireland.com/en-gb/a ccommodation/destinations/repu blic-of-ireland/clare/lisdoonv arna
This event took place on Saturday, 6th May 2017 at The Burren Storehouse, Lisdoonvarna, Co. Clare .
If you have any video links or photos, feel free to share them below.