Redemption Fest
The Grand Social, Dublin (2020)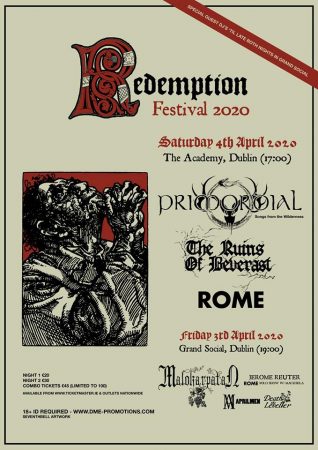 Editor Notes:
Redemption Festival' returns in 2020 and will, as always, be headlined by PRIMORDIAL who will perform a special 'Tracks From The Wilderness' set.
Nemtheanga had this to say: 'After so many albums there are many songs we wish we had been able to play more often or even at all. Therefore, along with some of the regular live favourites, this will predominantly be a set of the obscure and rarely heard..Songs From The Wilderness'
---
Friday 3rd April @ The Grand Social (Doors 7pm) MALOKARPATAN, JEROME REUTER (of ROME solo show with MACUSHLA, APRILMEN (feat. Nemtheanga of PRIMORDIAL) and DEATH THE LEVELLER.
Saturday 4th April @ The Academy (Doors 5pm) PRIMORDIAL 'Songs From The Wilderness' THE RUINS OF BEVERAST and ROME.
DJ's til late both nights in The Grand Social.
3rd April €20 4th April €30 Weekend ticket (limited to 100) €45.
On sale Monday 7th October 10am from www.ticketmaster.ie & outlets nationwide & Sound Cellar (tickets for 3rd April will also be on www.tickets.ie)
This event took place on Friday, 3rd April 2020 at The Grand Social, Dublin .
If you have any video links or photos, feel free to share them below.