Perturbator
The Voodoo Lounge, Dublin (2016)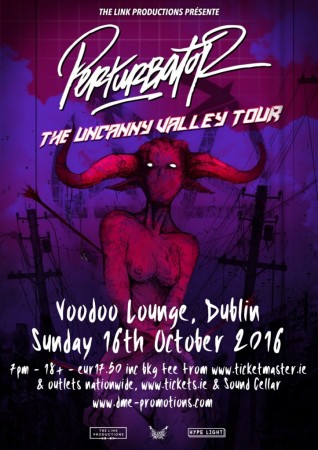 Editor Notes:
80's dark synth king Perturbator will come to Voodoo Lounge Dublin on Sunday 16th October 2016 for an exclusive Irish show in support of recent release 'The Uncanny Valley'. Tickets €17.50 on sale this Thursday 21st July @ 10am via www.ticketmaster.ie & outlets nationwide, www.tickets.ie & Sound Cellar.
Bio:
PERTURBATOR (FR)
Cyber punchy electro with a strong 80s feeling,James Kent AKA Perturbator is the spearhead of the new synthwave revival (along with Danger, Lazerhawk, Kavinsky, D a n T e r m i n u s, . . . ) . RecentlyPerturbator's music makes an appearance in the hollywood movie "THE GUEST", in the TV SHOW "Limitless", and in the 2 awarded video games "HOTLINE MIAMI 1 & 2". His last album "Dangerous days" was released in August 2014 on Blood Music. His new album « The Uncanny Valley » is on the way, and will be released on the 6th May 2016. For now, he will set on fire all the stages across Europe, Russia and Canada.
VIDEO :
PERTURBATOR I SENTIENT CLIP
https://www.youtube.com/watch?v=oTN6cGmH2yM
PERTURBATOR I COMPLETE DOMINATION CLIP
https://www.youtube.com/watch?v=VCSWzt56CC0
PERTURBATOR I LIVE
https://www.youtube.com/watch?v=L_At4O06E5g
This event took place on Sunday, 16th October 2016 at The Voodoo Lounge, Dublin .
If you have any video links or photos, feel free to share them below.