Pain In Vain
Fibber Magees, Dublin (2016)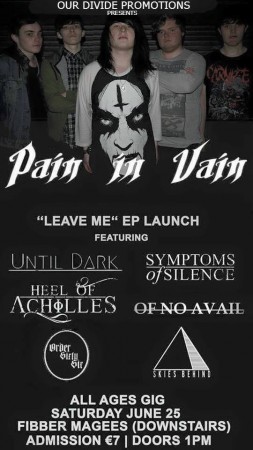 Editor Notes:
The debut EP launch event of the Dublin based metal band PAIN IN VAIN!
PAIN IN VAIN
5:15-End
Until Dark
4:30-5:00
Call To Arms
3:45-4:15
Heel Of Achilles
3:00-3:30
Of No Avail
2:20-2:45
Order Sixty Six
1:40-2:05
Skies Behind
1:00-1:25
Date: Saturday June 25th
Venue: Fibber Magees 80-81 Parnell St Dublin
Entry: €7 at door, €5 with ticket
Doors: 1pm
This event took place on Saturday, 25th June 2016 at Fibber Magees, Dublin .
If you have any video links or photos, feel free to share them below.