Noisefest
Fred Zeppelins, Cork (2016)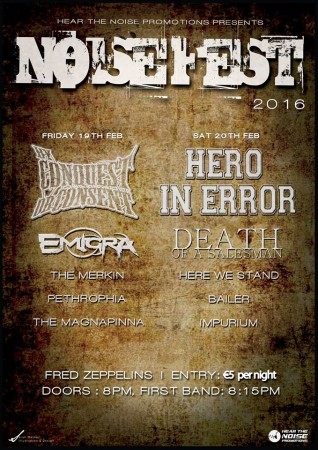 Editor Notes:
NoiseFest returns in 2016, bigger and better than before!!
Hear The Noise Promotions are running the two day weekender in Fred Zeppelins, Parliament Street Cork on the 19th/20th of February.
This Years headliners are Hero In Error (Dublin, Slots with Parkway Drive, Architects, Tesseract, IWrestledABearOnce and a slot at GhostFest)
and By Conquest Or Consent, (Belfast, Slots with Anthrax, Chelsea Grin, Heart Of a Coward and a slot at UK Techfest).
Amongst a host of some of the best bands Ireland has on offer, the weekend is set to take the metal scene in Cork to another level!
FULL LINE UP
FRIDAY
By Conquest Or Consent (Belfast Tech/Groove Metal)
Emigra (Cork Tech/Death/Groove metal)
The Merkin
 (Confused Stoner Jazz Metal from Brighton UK)
Pethrophia (Cork Tech/Death metal)
The Magnapinna (Cork Funk/Stoner metal)
SATURDAY
Hero In Error (Dublin Tech-Metal)
Death Of A Salesman (Belfast Hardcore/Metal)
Here We Stand (Cork Metalcore/ Post Hardcore)
Bailer (Cork Hardcore)
Impurium (Waterford Metal)
This event took place on Saturday, 20th February 2016 at Fred Zeppelins, Cork .
If you have any video links or photos, feel free to share them below.