Mother Mooch
On The Rox, Dublin (2017)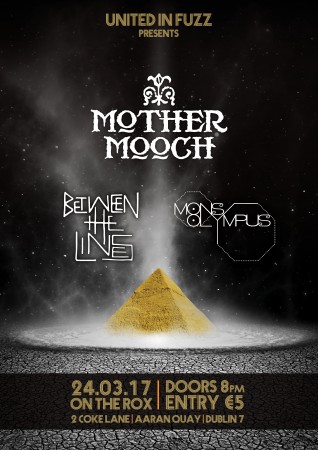 Editor Notes:
UNITED IN FUZZ & MOTHER FUZZERS BALL PRESENTS
+ SPECIAL GUESTS
ON THE ROX, 8 COKE LANE, DUBLIN 7
8PM, FRIDAY 24TH MARCH, €5 ENTRY
Dublin's Mother Fuzzers Ball are proud to present the first Irish United in Fuzz show this Friday, March 24th in On The Rox, Dublin with headliners Mother Mooch being joined by Galway's Between The Lines and Mons Olympus from Belfast.
United in Fuzz is an ever growing community of Irish and U.K. stoner/doom/psych bands working together to organize and promote gigs under one banner – by the bands, for the bands. It began in the British midlands with Witch Tripper and Sound of Origin working together to arrange gig swaps in the early part of 2016. Stemming from their participation in Overdrive & Jetrocker's 2016 Bloodstock Metal 2 The Masses competition and wildly successful appearances at Bloodstock Open Air 2016, Ten Ton Slug and Two Tales of Woe were invited to play some UK shows in December 2016 under the UIF banner, and both were invited back in March of this year to play at the first ever United in Fuzz All Dayer in Mansfield, before heading to Manchester's famed Rebellion venue the following day. Close associates of Two Tales of Woe and Ten Ton Slug; zhOra, Mother Mooch and Elder Druid were invited to join in, and each have UIF shows booked in the UK in April and beyond. Now the time has come for Ireland to get United in Fuzz!
Mother Mooch:

Psychedelic doom-grunge from Dublin.
"'Nocturnes' is an astounding album by a band that have so much potential to get recognised on a global scale. They are without a doubt one of the best bands on the Emerald Isle in the present day and this record is hard evidence to support such a claim. Their blend of psychedelia with grunge and stoner rock/doom is a highly sought after formula and Mother Mooch are keeping the secret closely guarded – and rightfully so."
– The Sludgelord
www.mothermooch.bandcamp.com
http://youtu.be/5JzgFxBl1T4

Between The Lines:

 

Atmospheric rock and heavy vibes from Galway.
"Galway based prog rockers Between The Lines took to the stage and instantly engaged in what can only be described as a jaw dropping set! Toying with enormous grooves and unusual time signatures, Between The Lines brought with them a deep, captivating and often powerful sound which moved and forced the crowd to their command."
–  Irish Metal Archive
www.betweenthelines1.bandcamp.com
Mons Olympus:

Space prog/fuzznk from Belfast.
"Let it be known: Mons Olympus don't exactly shy away from the riffs. With an ever metamorphosing hybrid of space prog and funk, the latest phase of the Belfast-based three-piece's evolution has taken form in the punchy, groove-laden 'Incognito', a track that sees the Rory Dee-fronted band trimming the proverbial fat and aiming straight – and most tenacious – for the jugular."
–  The Thin Air
---
United in Fuzz featuring zhOra, Raum Kingdom, Elder Druid and Iona Death Cult will return to On The Rox on April 7th.
This event took place on Friday, 24th March 2017 at On The Rox, Dublin .
If you have any video links or photos, feel free to share them below.