Mother Mooch
The Workmans Club, Dublin (2016)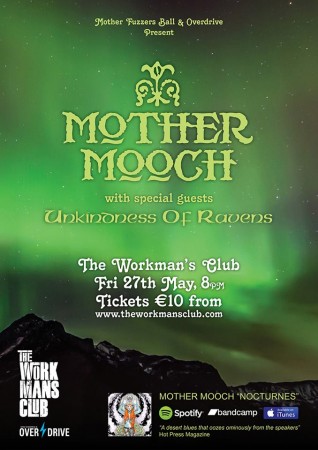 Editor Notes:
The Mother Fuzzers Ball & Overdrive Present
Mother Mooch & Special Guests Unkindness Of Ravens
The Workman's Club, Dublin
8PM, Friday 27th May
"Dublin heavy-psych warriors Mother Mooch have been kicking up dust for a few years now, perfecting a desert blues that oozes ominously from the speakers. From the soulful vocals of singer Chloë, to the classic hard rock riffing, shoegaze-y soundscapes and thundering drumming – Mother Mooch create a massive racket that's all their own."
– Hot Press Magazine
Mother Mooch's first show of the year at Workmans Club on Friday May 27th, presented by Mother Fuzzers Ball & Overdrive.
Special guests Unkindness of Ravens will also play a full set.

Mother Mooch are a five piece Fuzz Rock band from Dublin. Taking their name from a misheard Black Sabbath lyric and their inspiration from a wide range of rock and punk acts from the 70s, through grunge, alternative and desert/stoner rock right up to the current heavy psych scene: Mother Mooch is the amalgam of each member's eclectic music tastes combined to form something uniquely their own.
After spending several years honing their lineup, sound and live show, Mother Mooch shifted gears in 2015 taking their first steps into Ireland's festival scene with performances at Canalaphonic, KnockanStockan and Electric Picnic in addition to supporting Kyuss/QotSA legend Nick Oliveri for the second time and playing to an ever increasing audience at their self promoted Dublin shows. Their debut EP "Preludes", released in March 2015, began attracting fans from around the globe and brought them to the attention of national and international music media. Their fully self produced debut album "Nocturnes" was released on Friday 13th November 2015 and has received glowing reviews both at home (Hot Press Magazine, GoldenPlec, Pure M, Metal Ireland) and throughout the international heavy underground (Doomed & Stoned (US), More Fuzz (FR), Outlaws of the Sun (UK) & more). Songs from the album have featured on radio stations, podcasts, web shows and youtube channels throughout Ireland, Europe and the US.
Mother Mooch are set to release a vinyl edition of "Nocturnes" through German label Krauted Mind Records in summer 2016, with Irish, UK and European shows later in the year in support of the album. Irish festival dates for summer 2016 will shortly be announced. The release of their darkly cinematic "Hive Mind" official video – shot on location in Donadea Forest Park, Kildare – is imminent.
Stream Mother Mooch "Nocturnes": http://open.spotify.com/album/7u62qSjEGIS1eCvU285XCY
Watch "My Song 21" music video, created by Mother Mooch drummer Danni Nolan: https://youtu.be/2OC_ssa6MY0
Unkindness of Ravens – Having evolved from Road Rash, a southern/stoner rock styled band formed in 2012, Unkindness of Ravens emerged in late 2015 with a new line up, a new musical direction and a debut album released through US label Dura Gesta Records. Traversing many different genres and styles and incorporating a large multitude of instruments, including 'found sound' and field recordings, the band have received national airplay on Irish radio shows dedicated to cutting edge experimental music and have received attention from people around the world attracted by their visual and musical portrayal of the duality of melancholy and beauty.
"Right from the first, expertly chosen piano strokes, you know this is really going to be something!"
Metal Ireland
Stream Unkindness of Ravens "Under Stolen Skies": https://open.spotify.com/album/64qmcZsJmi8KPNzpFAnLpG
Watch "Leanan Sídhe" Official Video: https://youtu.be/KUHvLzhBaVE
This event took place on Friday, 27th May 2016 at The Workmans Club, Dublin .
If you have any video links or photos, feel free to share them below.