Mother Mooch
Fred Zeppelins, Cork (2016)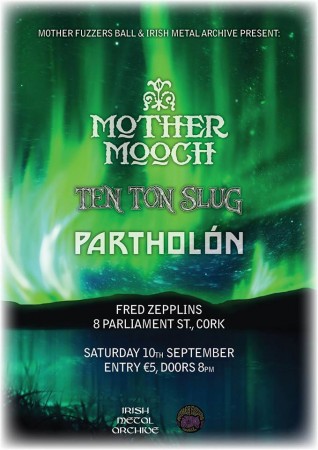 Editor Notes:
Irish Metal Archive and The Mother Fuzzers Ball Present:
Mother Mooch
Ten Ton Slug
Partholón
Fred Zeppelins, Saturday 10th September, 2016
Doors 8PM, Entry €5
Mother Mooch are a Fuzz Rock/Heavy Psych band from Dublin, Ireland who play a "weird and wonderful mix of Psych, Desert Rock, Blues, Grunge and Stoner Rock given a trippy modern makeover" (Steve Howe – Oultaws of the Sun, UK). Their name derives from a misheard lyric in Black Sabbath's Symptom of The Universe.
Their debut EP "Preludes", released in March 2015, began attracting fans from around the globe and brought them to the attention of national and international music media. Their fully self produced debut album "Nocturnes" was released on Friday 13th November 2015 and has received glowing reviews at home in Ireland and throughout the international heavy underground. Songs from the album have featured on radio stations, websites, blogs, podcasts and youtube channels throughout Ireland, Europe and the US.
A vinyl release of "Nocturnes" will be issued through German Stoner/Psych label Krauted Mind Records this September.
www.mothermooch.bandcamp.com
www.breakingtunes.com/mothermooch
Ten Ton Slug
Based in Galway and originally from the depths of Connemara in the west of Ireland, Ten Ton Slug has ingested 5 humans and leaves a trail of sludge/groove metal in its wake.
Ten Ton Slug released a well received two-track live demo 'Live at the Oaks' in September 2015, and has gigged extensively around Ireland since, most notably winning the Metal 2 the Masses Ireland competition in May 2016, securing a slot on the New Blood Stage at Bloodstock Festival 2016 in the UK.
Their debut EP 'Brutal Gluttonous Beast' will be released this September
www.tentonslug.bandcamp.com
Partholón
Dissonant progressive sludge from the south coast of Ireland featuring former members of Five Will Die.
Their debut release will be issued this September.
This event took place on Saturday, 10th September 2016 at Fred Zeppelins, Cork .
If you have any video links or photos, feel free to share them below.