Mescalito
On The Rox, Dublin (2016)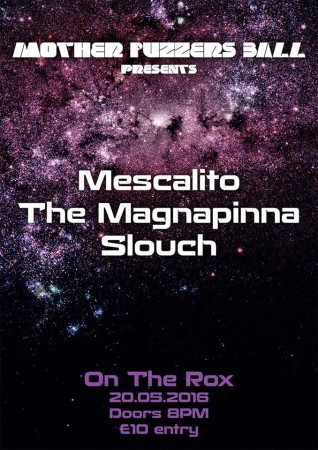 Editor Notes:
The Mother Fuzzers Ball returns to Dublin's newest home of all that is heavy, On The Rox, Smithfield on Friday May 20th with performances from Mescalito, The Magnapinna and Slouch.
Doors at 8PM, admission €10.
Our last few shows have been on the heavier end of things – this time it's all about the good time rock n' roll, so bring your dancin' shoes!!
Mescalito is a power trio formed in 2006 with techno, hip hop, funk-rock and Afrobeat influences. Gigs in Dublin venues such as the Lower Deck, the Voodoo Lounge, McGruder's and Sweeney's cemented their reputation for electrifying live jams. Mescalito have regularly played the Sibín Festival, Life Festival and Knockanstockan, toured Ireland, and performed in Brixton and Hackney, London. The group reunited as a full time band in 2016 after a hiatus. They are currently crafting an all-new set of songs towards an EP recording in summer 2016.
The Magnapinna – Dissonant alt-rock featuring members from Tokyo, Berlin, Brighton, Brisbane and Cork. For fans of Faith No More, Neurosis, Tomohawk and The Melvins.
www.magnapinna.bandcamp.com
Slouch – Just a couple of lizards playing some swampy grooves for you and yours in your local watering hole. "Some of the best sludgy riffing this side of Queens Of The Stone Age, if that band decided to play in the style of The Pixies" MusoGuide
www.slouch14.bandcamp.com
Mother Fuzzers Ball: Underground Fuzzed Grooves from Ireland and everywhere else.
For the last four years, Mother Fuzzers Ball – a group of Dublin musicians who come together to promote Stoner Rock, Heavy Psych, Doom, Occult Doom, Fuzz, Sludge, Desert Rock, Grunge, Heavy Blues and related genres – has showcased international bands such as Spirit Caravan, Karma to Burn and Conan and seen the rise of Irish bands Slomatics, Electric Taurus, Weed Priest, zhOra, Two Tales of Woe, Wizards of Firetop Mountain, Venus Sleeps, Wild Rocket, Nautilus and Mother Mooch among many, many others – often giving these bands their first opportunities to play live.
In 2015 MFB launched their monthly Heavy Feathers podcast and published the first issue of their high quality Wall of Sleep fanzine. Issue #2 is coming soon.
This event took place on Friday, 20th May 2016 at On The Rox, Dublin .
If you have any video links or photos, feel free to share them below.