Mammothfest Best Band ' Semi-Final 2
An Spailpín Fánach, Cork (2018)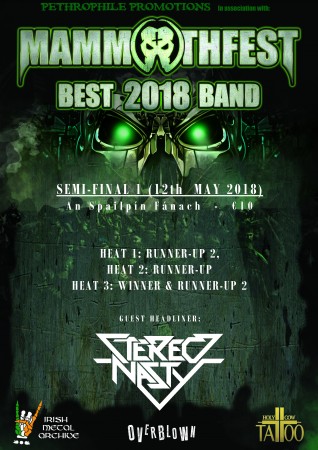 Editor Notes:
The second Semi-Final of the Mammothfest Best Band heat is happening on the 28th of April! Who will be the final two bands to make it to the Finals? 
Venue: An Spailpin Fanach
Ticket price: €10 (incl. voting slip)
Door: 20:00
Headlining Band: Stereo Nasty
Competing bands:
Coroza
HEAT 2: RUNNER-UP
HEAT 3: WINNER
HEAT 3: RUNNER-UP 2

Event Sponsors:
Holy Cow Tattoo Eire ( www.holycowtattooeire.com )
Irish Metal Archive
Overblown
+++++++++++++++++++++
This event took place on Saturday, 12th May 2018 at An Spailpín Fánach, Cork .
If you have any video links or photos, feel free to share them below.