Mammothfest Best Band 'Heat 1'
An Spailpín Fánach, Cork (2018)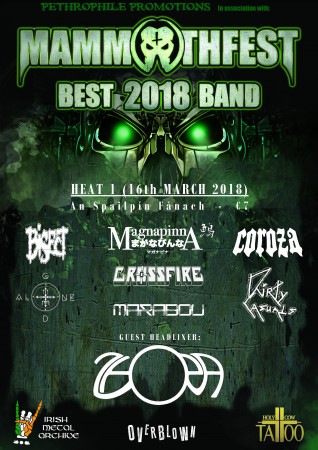 Editor Notes:
First heat of the Mammothfest Best Band competition is happening on the 16th of March! Make sure to stop by and help your favorite band to make it to the stage of the Mammothfest 2018!
Venue: An Spailpin Fanach
Ticket price: €7 (incl. voting slip)
Door: 18:00
Headlining Band: zhOra
Competing bands:
The Magnapinna まがなぴな 
Crossfire 
Bisect
Marabou 
God Alone.
Coroza
Dirty Casuals
*** PLEASE NOTE ***
As the original Heat 1 was cancelled due to the recent weather crisis, we have merged bands from that heat into the remaining heats. Therefore we will have 1 Winner and 2 Runners-Up going through from this heat.
*************************
Event Sponsors:
Holy Cow Tattoo Eire ( www.holycowtattooeire.com )
Irish Metal Archive
Overblown
++++++++++++++++++++++
This event took place on Friday, 16th March 2018 at An Spailpín Fánach, Cork .
If you have any video links or photos, feel free to share them below.