Mammothfest Best Band 'FINAL'
The Poor Relation, Cork (2018)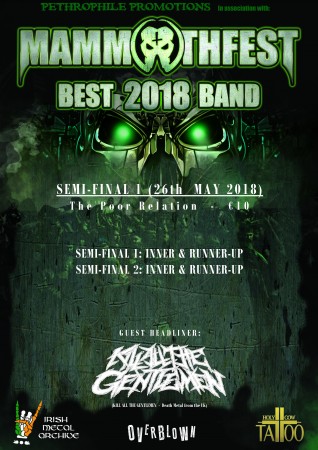 Editor Notes:
The FINAL of the Mammothfest Best Band heat is happening on the 28th of April! Who will be the outright winner and be heading over to Brighton to represent Ireland at MAMMOTHFEST 2018…??? 
Venue: The Poor Relation
Ticket price: €10
Door: 20:00
Headlining Band: Kill All The Gentlemen
Competing bands:
???????????????
We'll see after the Semi-Finals.
Event Sponsors:
Holy Cow Tattoo Eire ( www.holycowtattooeire.com )
Irish Metal Archive
Overblown
+++++++++++++++++++++
This event took place on Saturday, 26th May 2018 at The Poor Relation, Cork .
If you have any video links or photos, feel free to share them below.